I saw this great thread on another forum and thought I'd share it here:
This is my personal favourite list of girls. I like wild girls who are vocal and enjoy themselves during sex, who seem to be cool in their interviews (yeah, the first time watching a new girl I even watch the interview) and...I don't know...just have the "certain something" for me. I will provide detailed arguments why I chose for those women and what makes the videos great for me. The exact ranks are based on instinct though. My list could look differently tomorrow. I also have links for video uploads of the discussed episodes, so hit me up via personal message if you're interested (and can't find them on your own. Please put some effort in it, first).
Oh yeah, I also have a weakness for Asian chicks, as you will see. Why am I doing this? Because I know that feeling when you see pictures of 348 GDP-videos and you don't know which are worth looking for. And because I'm always open for videos from other people who share my taste and suggest to "totally watch video eXXX, you will love it!".
I will start with some unpopular decisions and honorable mentions of ladies who didn't make it in my personal Top10. Don't hate me if your favourite girl didn't make it, you are still allowed to jerk off to your dream girl.
Honorable mentions:
Kristy Althaus
Nope, Kristy Althaus is not in my Top10. She just seems to be a little bit too bitchy and arrogant, it's just the vibe I get from her. I mean, of course I would hatefuck the shit out of her if I had the opportunity, but that's not enough for my Top10. But hey - great sex without a doubt.
Half-Asian and supertight girl
She is just supercool and awesome and seems to have one of the tightest vagina's of all girlsdoporn. She also has a very sarcastic personality and gives some funny comments. When the interviewer doubts that her vagina is "that" tight, she just points to the guy fucking her and says "Ask him". He struggles to penetrate her at first and even says "Fuck" (normally, they don't say anything and just fuck them, so only that makes her special). Her "there you go"-comment when he finally manages it is hilarious, as well.
The mormon
I love this girl, really. She is cool, she is beautiful and she enjoys the sex. It nearly hurts to put her out of my list. What can I do besides just saying that she is a girl you wanna marry but that's not what I'm looking for in the first place when I watch porn. But if this list was a "Top 11", she would definitely my #11
And now the real deal, my Top 10:
#10! Hot Blonde
She is one of the loudest, if not THE loudest of all women I've seen on GDP. She cheats on her boyfriend which sucks a bit, but I guess that is not my problem. Anyway, she just loves getting pounded by that huge dick and makes no secret out of it. Compared to the other girls she is certainly not the prettiest, but I'd fuck her silly if I had the chance. I'm wondering what would happen if someone skilled would go down on her. She might explode. I think she is even a little bit too loud, therefore it's 'only' the 10th place.
#9!  "Oh my god your cock is so huge"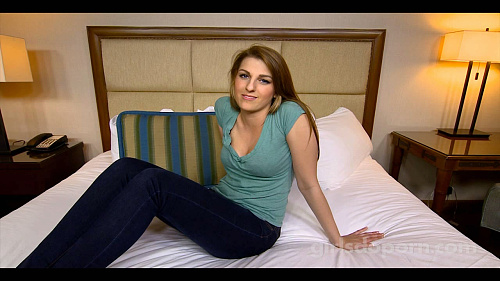 She is clearly impressed by his cock and can't really believe that such a big dick is fucking her. Nevertheless, she takes it like a champ. Her facial expressions are somewhere between disbelief and pure joy, which I find extremely sexy. The answer to the question about her favorite part of the scene is a simple "getting fucked". Nuff said.
#8! Birthday girl

This girl has just turned 18, is ridiculously hot, knows how to suck dick and enjoys the entire ride. It's simple a good whole package to watch. Sexy moans, some good dirty talk in the right moments ('Yeah, fuck me like that', 'oh my god', etc) during the good pounding while rubbing her clit – it's just a joy watching her earning money.
#7! the experimenting one

Similar to the girl before, this lady here has a fantastic body and knows what she's doing. With her definitely being on the submissive side, she just loves getting face-fucked and treated roughly. Her moans while getting pounded are right on top of the list. Her ass and tits wiggle and shake while getting pounded and may hypnotize you. This girl doesn't need to fake that she likes it and make stupid faces for the camera, she just lets it all out. I also love the fact that she is down to try new things. In her second scene for GDP, she tries anal stimulation, in her third scene a threesome. She performs great in all scenes, but personally I love her second scene the most. At the end she is so tired and happy that she nearly falls into sleep. During her threesome she mostly sucks one cock while getting fucked by the other, therefore you cannot hear her moans that good which is a pity(still an awesome scene though).
#6 Mongolian Girl

I mentioned that I just LOVE Asians, therefore it should be no surprise that this girl is on rank #6. Personally, I already got turned on during the interview: she admits watching porn on regular basis without second thoughts; she had sex with girls, guys and both at the same time. She prefers rough sex over intimate sex. I also like the way she is talking about it. Casual and excited, but not proud in a way that she has to prove something. She is just sexually open and therefore not really nervous when it comes to doing porn. And her body is a real stunner. Her 34D-tits are amazing, her ass is just awesome and everything wiggles like it's supposed to wiggle. She loves to deepthroat and sucks the cock eagerly like a pro. When it comes to sex, she is an awesome screamer: not to loud, clearly enjoying getting pounded, clenching the sheets and loving every second of it. Her occasional dirty-talk is sexy as fuck (around 25:00 'Oh god, you're so deep…'). With the experience of having sex with ~22 guys she takes the cock like a champ. Just great.
#5! The perfect slut

Of all girls on this list, this girl is probably the most fun to fuck. Why? Because she is the biggest slut I've ever seen on GDP. And that's meant as a compliment. Let's be honest guys: In the bedroom we all want a girl who tells us to fuck her harder, who eye-fucks us while getting undressed and is just horny 24/7. That is this girl. She watches porn 'all the time', started fucking at 14, doesn't keep count on the amount of guys she already fucked. I wouldn't be surprised that the #1 reason for her to make this scene was getting fucked hard on camera with getting paid being a nice bonus. Oh yeah, and she brought her superhot friend who joins in in the middle of the scene. However, I even prefer the part before: She nearly takes that big cock all the way in her mouth. During the blowjob you can see the difference between her, the birthday girl and the experimenting one. The first girl enjoys the cock, the second one loves the cock, but this girl here needs that cock. When she finally gets pounded, she is just in heaven. The dirtytalk, the energy…everything is just amazing. In the end the male talent cums in both mouthes and the girls start French-kissing (therefore easily the best cumshot in GDP history)…. She is just the perfect slut. Just watch it. Oh yeah, she's hot, too.
#4! Alina Li – nuff said

It's Alina Li in her first porn and she's loving it. If that's not enough to convince you that she has to be on #4, get the fuck out of here. Yeah, I'm a fan. It's a personal list and this girl is my favorite porn star. Also Asian.
#3!  Dat body

There have been a lot of hot girls on GDP, but when I compare the pictures with clothes on, this is the #1 for me. Those tits, those body, those glasses. Somehow everything turns me on. It's her whole…I don't know.. charisma? She is just gorgeous, confident, direct, submissive and kinky (fantasizes about being tied up) and open to new things in bed. The whole vibe drives me crazy. I could imagine that during sex she would look you in the eyes all the time with a confident "fuck me"-look. Not in a slutty way, just in a "I know what I want"-way. I like to think that she is intelligent, too, which turns me on, as well. But maybe that's just because of the glasses. When it comes to the scene itself, she is able to take the whole cock in her mouth without blinking an eye. It's nearly scary, but so hot. And then she takes her clothes off…. Oh sweet Jesus in heaven (I'm an atheist, by the way), this body is killing. And then he starts fucking her…those noises, those facial expressions, this tits bouncing while she's getting pounded, THAT ASS OMG. Ok, I will stop now. I have to write two other reviews. My advice: Don't skip the POV-part where he fucks her doggy-style, cuz dat ass.
#2!  The perfect one

Well, she is just perfect. Hands down. Da Vinchi couldn't have painted a better body. Her face is stunningly beautiful. I don't need two give reasons why she is #2. She is simply perfect. And she loves getting pounded hard even though she told in the interview that she prefers intimate sex. She seems to be lovely in the interview, but to be honest, it doesn't even matter. She just couldn't be not sexy even if she tried. An absolute must-watch. This girl even massages the balls of the male talent while getting fucked doggy-style. Why is she not on #1? Well, it may sound stupid, but to me, she is just too perfect. She seems to be too unreal.
#1! That girl who lost a bet

See, this is my favorite GDP-video right now. This girl is not perfect, she actually seems to be a little bit weird. She's doing the porn because she lost a bet and doesn't really know what she has to expect. But what makes this video my favorite is that she has the most earth-shattering orgasms I've seen on GDP. Her whole body is shaking, she is just losing her shit during this sex. The thing that makes this so sexy for me is that it seems to me that she didn't expect it to be so overwhelmingly awesome. Oh yeah, she gives awesome blowjobs, too. Sloppy, eager, spitting on it and stroking – just great. And her tits are huge, soft and bounce perfectly. But as I said earlier: Those orgasms are the real deal. Shivering, natural, real, mind-blowing.